W H A T
Immersive, Provocative, Raw
Installation Art Event
The Parlour Project: Spider, Fly, and Web is a provocative auto-ethnography about my lived reality as a former sex worker using the contributions from my patrons to fund my work as an emerging artist. The project consists of 3 parts: a multimedia pop-up ceremony with an accompanying book and documentary* about its creation. While my writing reflects my deeper insights of womanhood and the commodification of the feminine divine, the exhibit is an opportunity for a viewer to participate in my story from their own place of imagination, morality, experience, and courage.
Come into my parlour for this intimate embodiment of human connection, sexuality, and transcendence.
ARTIST
AMBER DAWN BELLEMARE
@dahlia_duende
*The event will be filmed live throughout the weekend showings
For event bookings and inquiries: dahliaduende@gmail.com
The Exhibit
The Parlour Project is an immersive installation, photo exposé, with video projections and performance piece. All of this is done within the container of ceremony to create a sensual intimacy that nurtures the spirit. Guiding the process of ceremony is my dear friend and mentor, Anishinaabe artist and elder Sharon Brass, White Thunderbird Woman.
"We were both raised or born to deeply impacted mothers and I realize...look at the resilience in the two of us...that is something to behold! We are here to bring beauty into the world. What happens when Women's lives are honoured and celebrated in a sacred creative way that is designed to facilitate a greater connection to the story of their journey here on earth? Our world today creates a situation where dealing with all of the external forces allows little time to reflect or to create an identity from within. Indigenous wisdom has a lot of teachings and wisdom around connectedness to spirit, the ancestors and the earth. We believe that rituals, dances and songs can help guide a creative process that can deepen their identity and connectedness to their authentic selves. Women who have never been valued for who they really are suffer from maladies I (we) call "spirit sickness." This means a separation from one's true self or spirit. With Amber, I am supporting her vision to create a safe space through ceremony and ritual specifically for this project. The experience will be rooted in Indigenous wellness practices but will also be careful to observe appropriation issues."
I make documentaries about other people's stories, so in the process of claiming my own story, I had to become the subject. I am literally exposing everything about myself that I struggled to understand, as a way to connect with the same struggle inside others. The Parlour Project aims to push through those limitations with art and integrity for an audience who also hungers for those rituals of the flesh. I hope people come to the show with curiosity and a willingness to engage with an erotic object in the presence of other individuals with the same outlook; the chance to experience a transcendent intimacy together. They may find in themselves something naughty, playful, perhaps lonely or enraged.
"Will you walk into my parlour?" said the Spider to the Fly. "'Tis the prettiest little parlour that ever you did spy; the way into my parlour is up a winding stair, and I've a many curious things to show when you are there." "Oh no, no," said the little Fly, "to ask me is in vain, for who goes up your winding stair can ne'er come down again."

- From the poem by Mary Howlitt
In the dynamic of Howlitt's poem, I often played the role of the spider, and at times the role of the fly when I felt my clients needed her to be seduced by them. It then became clear I was neither the spider nor the fly, I am the web. It is my job to enable sincere and vulnerable interaction. I am compelled to the collapsing of simple categories such as bad and good, spider and fly. This show is about the entirety of the spider/fly/web—unapologetic, warm and welcoming.
With the recent explosion of sexuality that has been brought about with technology, I believe The Parlour Project is unprecedented as a unique contribution that allows a glimpse inside the oldest profession and connects it to an ever-expanding and increasingly accelerated discourse. The internet has provided many platforms that empower women to claim their voices, control their images and exploit themselves as they see fit and the world is being forced to adjust, some less willingly than others. It's easy to get caught up in our own judgments, especially when it comes to sex as a service. Sex workers bear the brunt of negative criticism which leads to cycles of violence, mistreatment, and abuses of power. The way we talk about sex work affects the way we can influence change. This live exhibit is only one portal to that world, but I believe walking through it is a good first step.
Please accept this invitation to walk inside what was my daily experience and to locate yourself in my story. I utilize mediums that "reflect and project" to establish our interdependent existence, and to offer an opportunity to be more intentional with how we make value judgments on one another and ourselves.
The Artist
Amber Dawn Bellemare is a Montreal based multi disciplined artist whose work involves themes of vulnerability, resilience, and belonging. She is the program animator for the Truth, Healing, and Reconciliation Initiative for the Canadian Unitarian Council and the proud founder and member of The Wolf Lab, a local woman's art collective that nurtures the creative entrepreneurial spirit of women in a collaborative setting.
I wish to respectfully acknowledge the Indigenous people as the traditional custodians of the lands where we live, learn and work, and in particular, recognize the Kanien'kehá:ka Nation. The unceded lands of Tiohtiá:ke/Montreal is historically known as a gathering place for many First Nations. Today, it is home to a diverse population of Indigenous and other peoples.
"Real. Raw. Honest. Seeing The Parlour Project simply cannot be a one time occurrence. There is too much to live, absorb and feel to be able to do so in a single viewing. With elegance and eloquence, Amber allows the viewers to live through a very personal range of emotions that mirror the different aspects of the experiences she shares. Most of my existence has been intertwined with this marginalized and vulnerable community I felt was not given a voice. Now, thanks to Amber's brave candour and wonderful art, it has one. And the world is a better place for it. I am grateful. Here, beliefs are not challenged through confrontation but by changing the emotions that are at their core and the tone of the conversation. In doing so, she creates a space where showing vulnerability is strength, hard truths become easy to accept and inner peace matters. Warning: This is an immersive experience that will go strait to your soul and there is nothing you can do to stop it. You will be changed. Be prepared." Anon
"I witnessed The Parlour Project three times. My first time at Parlour brought on an intensely intimate acceptance of self which took almost the entire next day to process. It was honestly painful. I felt cracked open. Exposed. I managed (with the loving guidance, boundaries and patience Amber has always provided me) to move through the discomfort. I can now truly believe that I belong. My second time, I sat in more of an observer's seat. Still struggling with being a full participant, yet beaming with pride as I watched the abundant power of The Artist's vulnerability influence the audience. My third and final time, I stood back examining the energy in the room. I felt the audience become uneasy at times. I wanted to scold them for their discomfort, but recalled that I too was once similarity afflicted.
The way The Artist provides a space to witness this ceremony, be moved, be uncomfortable, be vulnerable, and wholly accept one's self and those around us is a blessing the world needs right now. To experience Parlour is to experience something other-worldly, yet deeply relatable. May we all recognize the healers and those in need of healing in our lives and tend to them with the same loving kindness we long for ourselves." Karen
"I walked along the wall full of photos of someone I know and thought I knew. I saw aspects of her I had never seen and I felt like a voyeur, someone looking at something private and not for my eyes. It was thrilling to see this sexual dimension of her for the first time. At the same time I wondered what images of her are from before having sex for money, and which are from afterward? I couldn't tell for sure so could only guess, and I started to see my own projections of what it means to work in the oldest profession. I thought maybe images that show her looking sad or vulnerable are After. Maybe the smiling, sometimes goofy ones are from Before. What came to me because of not knowing was the obvious truth that she's the same person in both. That she's still a funny girl, a sensitive advocate and cheerleader for other women, artists and sex workers, my old friend, a sister and daughter, a part of a community and a human being. Sex work doesn't change what or who she is. And this is something we should all know but we don't. I should have known. We may say it with words in our society but we don't truly feel it. We don't truly believe that sex workers are human beings who deserve our respect as much as bankers and doctors (who are her clients too). If we did they'd work under the same labour protections other workers enjoy. We would meet them at parties and hear their job title and start a conversation. We would love them as mothers and wives like other women are loved. I love this woman not despite that she was a sex worker. She is a deeply principled and courageous person and she will I hope always be my dear friend." Jess
"If you have not yet been to this exhibit / live event, I highly recommend it. The installation shows a side of sex work that most are unfamiliar with or afraid of. Remove the veil, indulge your curiosity, confront your fears and learn about one women's journey thus far. The live performance will leave you emotional, hungry for more, filling in the blanks of what is unspoken. What stood out to me were the layers on top of layers - the work itself and what we all struggle with as human beings: Vulnerability, shame, self acceptance, society. I am grateful for the debrief after the exhibit - when you have a moment to sit with all the information, discuss different points of views and share, if you please. The exhibit opens the dialogue for sex, sex work, body positivity, self love and self respect. Amber Dawn is one of the most kind, open hearted people I have had the pleasure of knowing. She will enthral you with her story - the Spider, the Fly, and the Web. She will envelop you in loving kindness." Kelly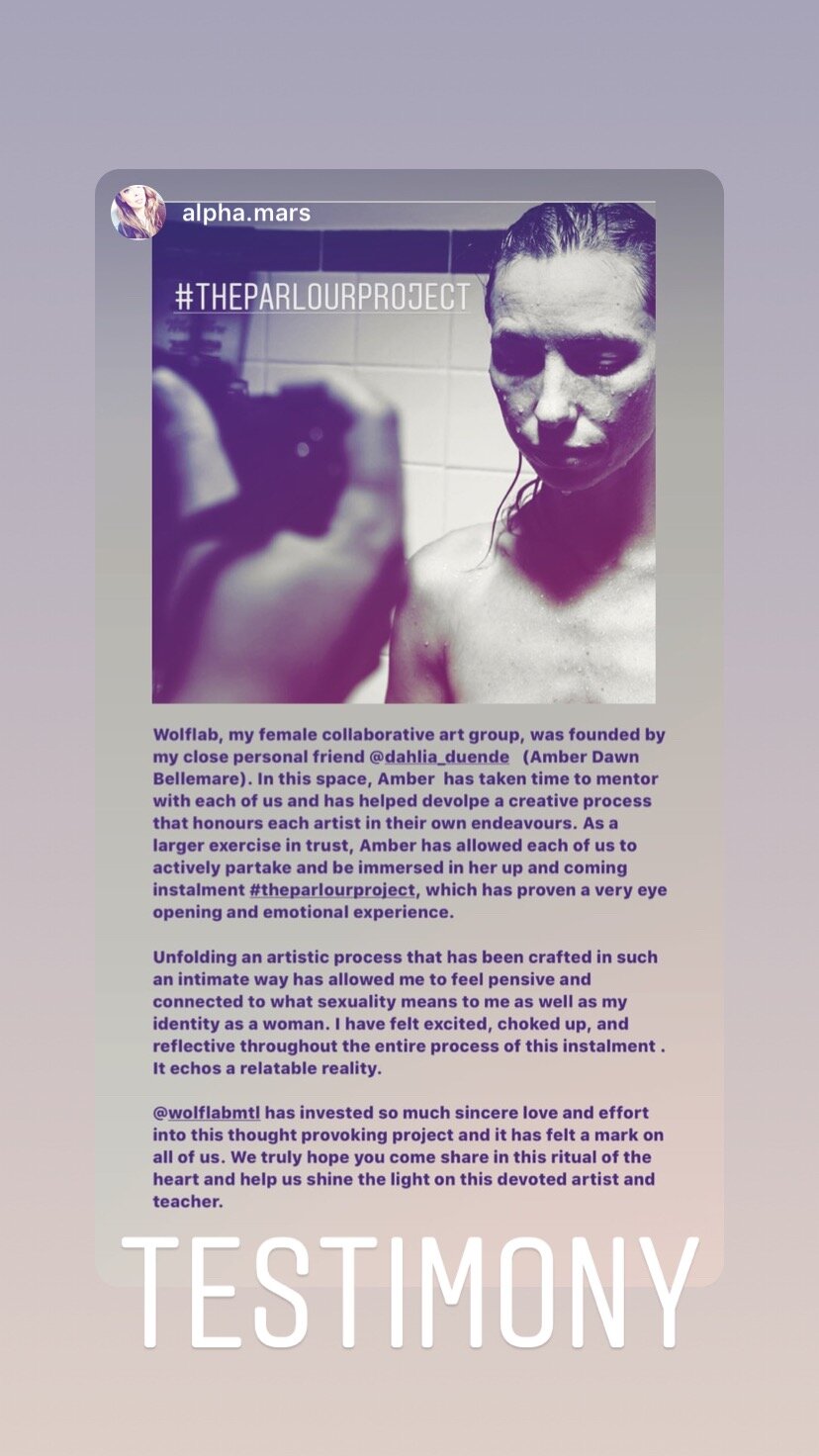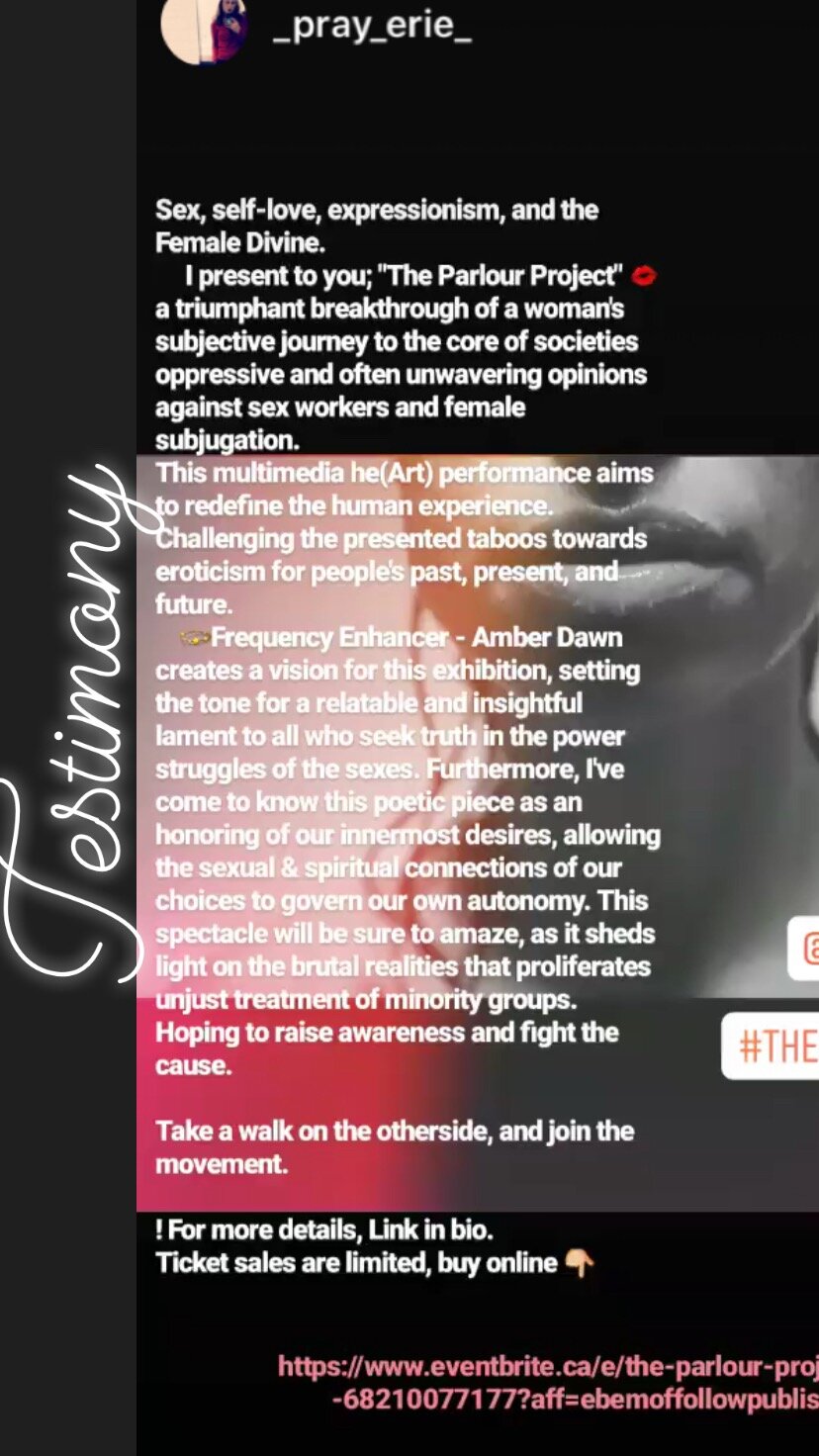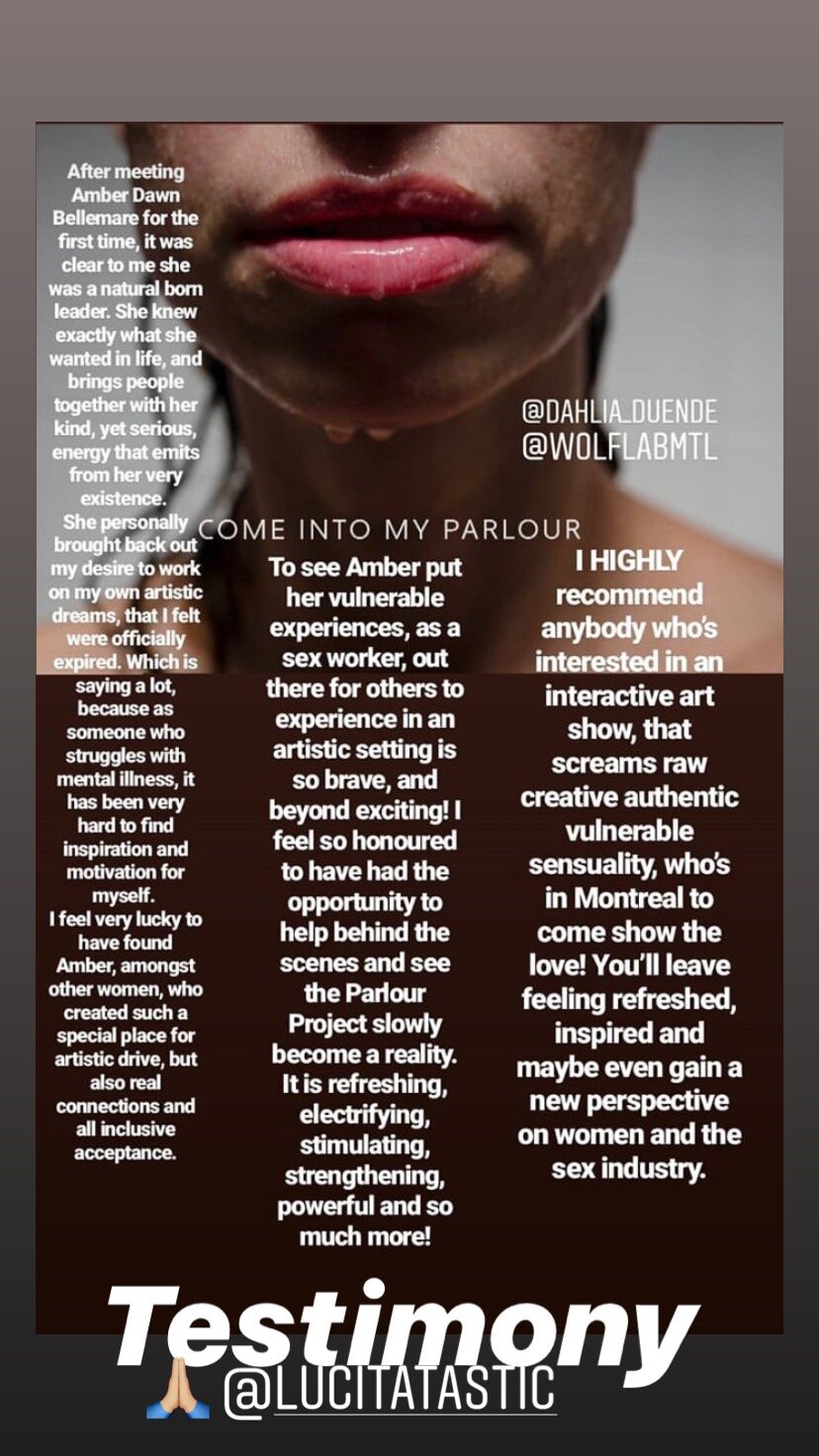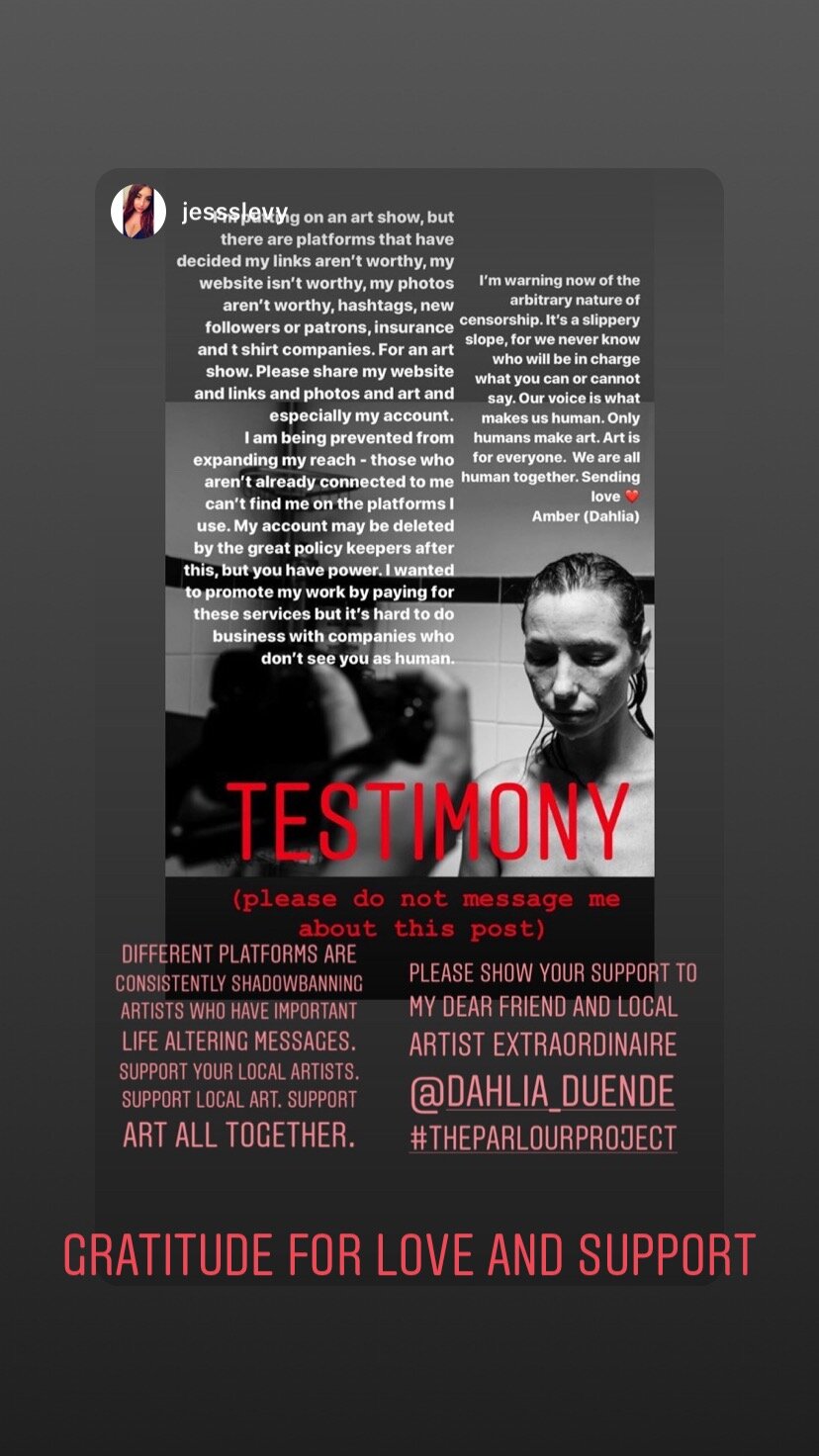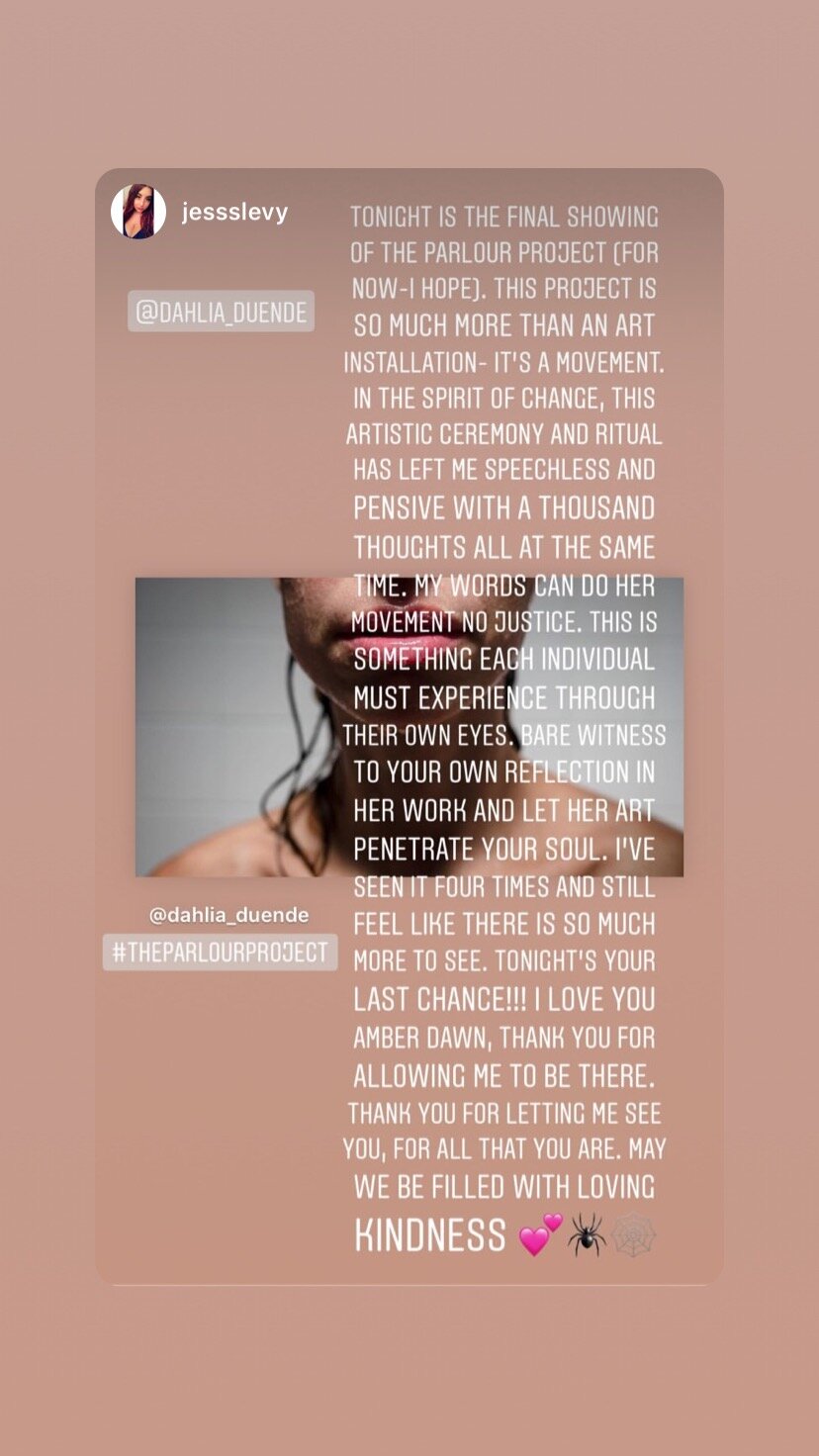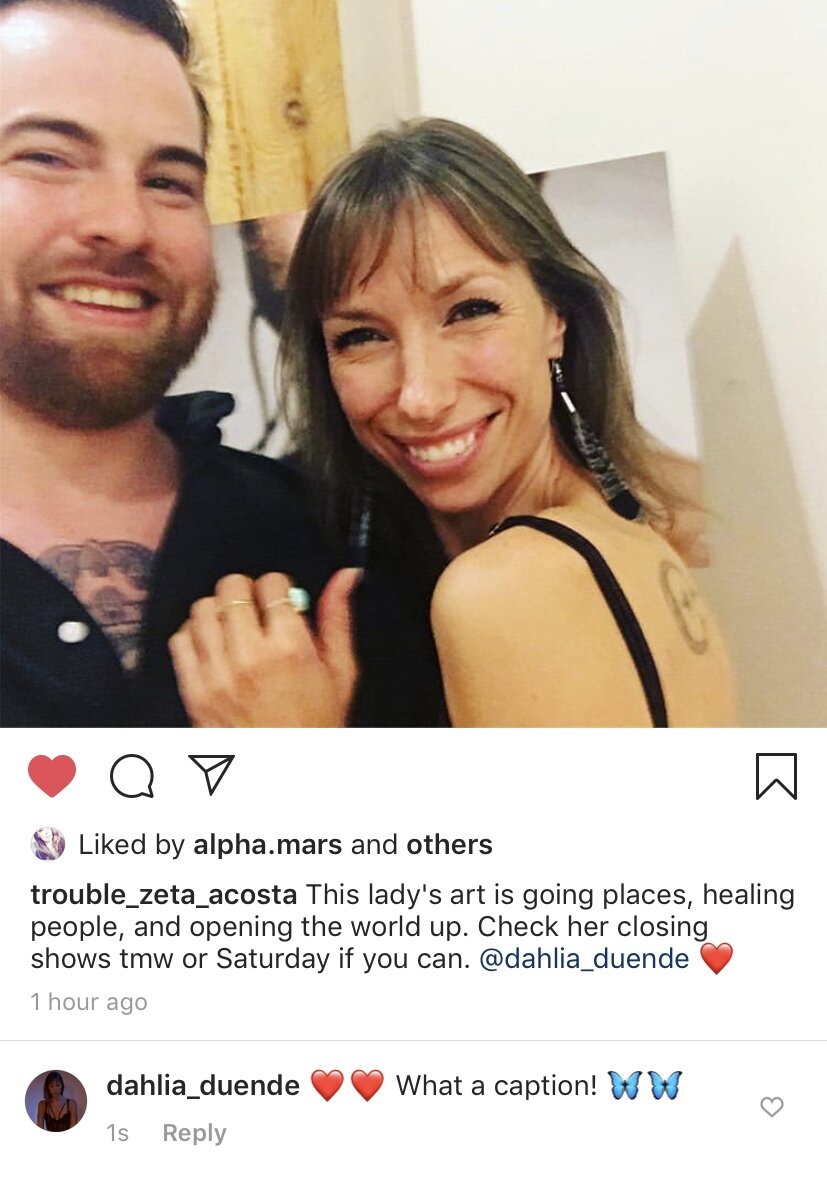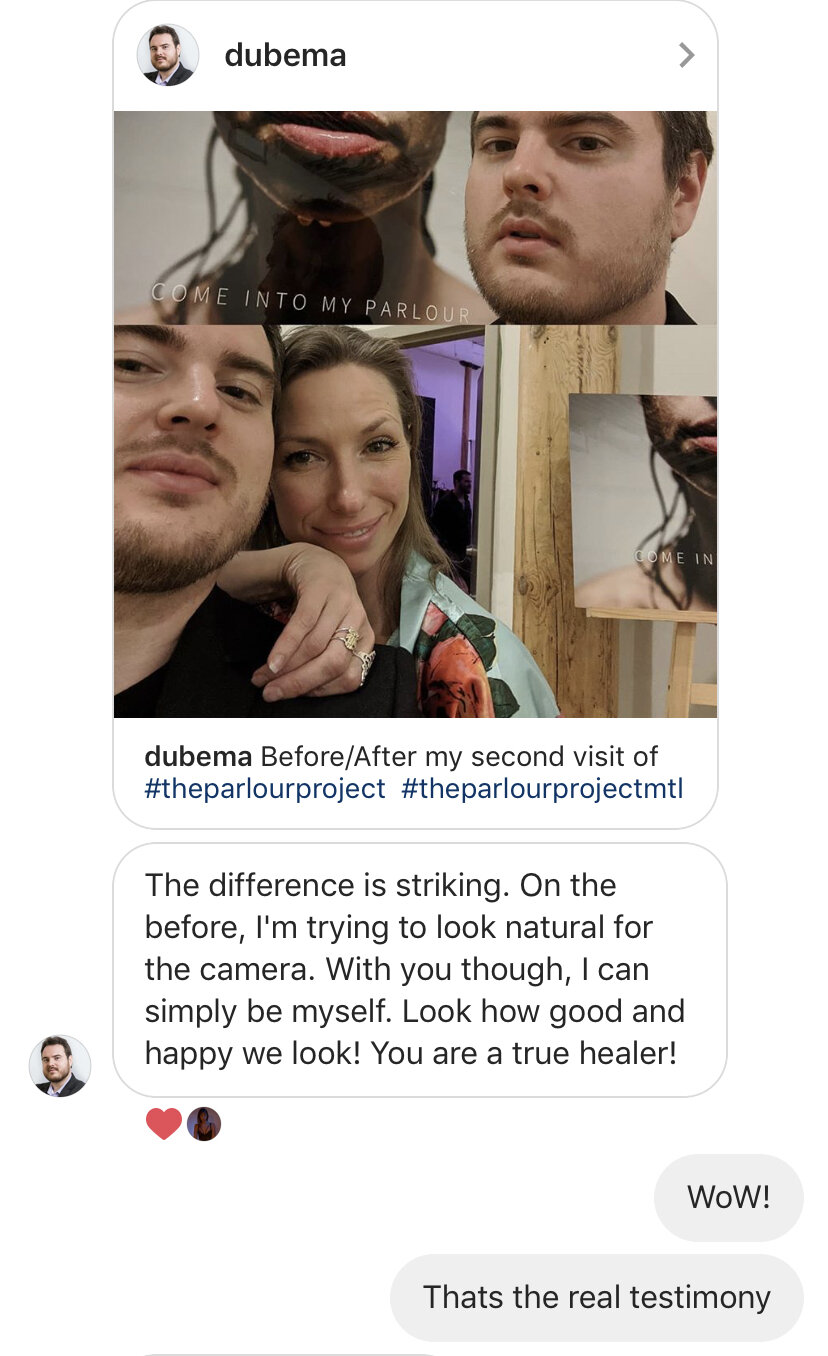 PRESS
Reviews
September 28- CPAM Grasse Matinée review by Ghyslaine Hebert

September 24- Curtains Up review by Tina Wayland

September 21- Fragments Urbains review by Karine Tessier

September 20- CISM, Quarter Libre, review by Louis-Philip Pontbriand (about 6 minutes into the show):

Interviews, Previews and Mentions

August 7- Broadway World

August 7- Montreal Theatre Hub

August 13- Canadian Art, Agenda

August 26- Broadway World

August 29- Montreal Gazette, Fall Theatre in Montreal by Jim Burke

September 2- Mon Théâtre

September 3- La Scena, Theatre: Autumn Highlights by Nathalie de Han

September 7- Interview by Jess Piché

September 9- L'Initiative

September 10- Lienmultimedia

September 10- ZoneCulture

September 13- The Suburban

September 13- Qui fait quoi

September 14- Montréal 157 by Jacqueline Mallette

September 14 & 21- CPAM Grasse Matinée, mention by Ghyslaine Hebert

September 17- The Concordian interview by Chloë Lalonde

September 19-Voir, Quoi faire à MTL par Charline-Ève Pilon

September 19- Canadian Art, Agenda

September 20- Her Story podcast interview by Kathleen Stavert

September 24- Godberd interview by Monica Rose

September 25- Lonely Girl Productions interview by Bianca Vena and Stefano Martino:

September 25- Global News events

Various radio mentions

Select listings, direct mail, social media posts

www.947hits.com/event/the-parlour-project-spider-fly-and-web/2019-09-19/

globalnews.ca/event/5916275/the-parlour-project-spider-fly-and-web/

montrealtheatrehub.com/event/the-parlour-project/2019-09-19/

ELAN (English Language Arts Network) members.quebec- elan.org/593/the_parlour_project_spider_fly_and_web--_performance_exhibit

Fragments Urbaines: www.facebook.com/FragmentsUrbains/posts/2621881441376348 twitter.com/KarineTessier/status/1174729423913934849?s=20

twitter.com/KarineTessier/status/1174731121046818818?s=20 twitter.com/F_Urbains/status/1174729311770808322?s=20 www.instagram.com/p/B2nia9HHKRm/?utm_source=ig_web_copy_link

www.facebook.com/karine.tessier.507/posts/10157298864460240 www.facebook.com/FragmentsUrbains/posts/2628571127374046

twitter.com/KarineTessier/status/1177598162355261446 twitter.com/F_Urbains/status/1177598006776012801

****Due to the nature of the content and privacy needs of the viewers, cell phones are strictly prohibited. Thank you for respecting the artist's request. Please note the 25-minute performance contains brief moments of explicit content that some may find pornographic. Viewer discretion is advised. In the spirit of ceremony, a debrief will be held after the performance. The audience will be notified when there is an appropriate time to remove themselves and are invited to return for the debrief.***